About the Journal
Publication of  Sociedade Brasileira de Paleontologia
Print version ISSN 1519-7530 On-line version ISSN 2236-1715
The Revista Brasileira de Paleontologia (RBP) is an official publication of the Sociedade Brasileira de Paleontologia launched in 2001. The RBP is a fully open-access journal with quarterly number releases (March, June, September, and December).
Revista Brasileira de Paleontologia promotes the research and publishes original articles (typically 10-40 manuscript pages) and taxonomical and nomenclatural notes on all aspects of Paleontology. Papers must be written in English, Spanish, or Portuguese and are peer-reviewed by international experts. Proposals for symposium volumes should be discussed in advance with the editors.

BIOSIS, Current Contents, GEORef, Latindex, Portal Periódicos CAPES, Science Citation Index Expanded, and Zoological Record index the journal. Revista Brasileira de Paleontologia is a member of CrossRef.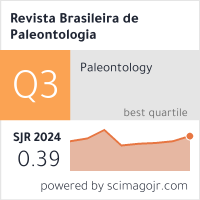 Associação Brasileira de Editores Científicos
h5 index: 7
h5 median: 10
Impact factor (JCR 2022): 0.70
Current Issue
Vol. 26 No. 2 (2023): Revista Brasileira de Paleontologia
View All Issues